The school formerly known as Nyack College has had money troubles for years. But school leadership is optimistic with rising enrollment.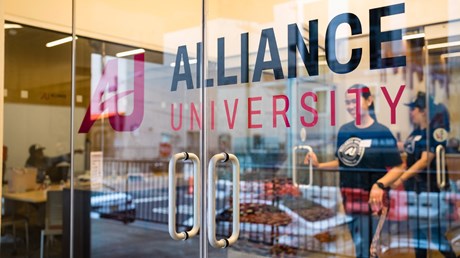 Alliance University, known until a name change in 2022 as Nyack College, faces the loss of its accreditation due to financial troubles, after a 2022 audit cast doubt on the school as a "going concern." Accreditors visited the Manhattan campus on Monday, and a June hearing will determine the school's accreditation status.
The Middle States Commission on Higher Education (MSCHE) recently placed Alliance on "show cause" status, meaning the school must show why its accreditation should not be revoked. MSCHE also placed The King's College in this status last month, threatening the only two historically evangelical colleges in Manhattan—and the only two Council for Christian Colleges & Universities (CCCU) members in New York City—with removal of accreditation at the same time. The schools' troubles are part of a larger crisis in Christian higher education.
Alliance's auditors in 2022 noted "recurring losses in net assets" and "recurring negative cash flows from operations" that caused them to doubt its ability to continue. MSCHE put Alliance on probation in June 2022 just before the school's audit was released.
But an audit of the school in 2017 also warned of a failing institution, and Alliance has survived the years since of declining enrollment and a pandemic. It has been coming out of its financial free fall, especially with support from its parent denomination, the Christian and Missionary Alliance (C&MA).
Enrollment last year was up 12 percent, and the school expects to have a positive cash flow for the first time in a decade next year, Alliance's president Rajan Mathews told CT. Applications for next year are up significantly, …