LA pastor Jason Min talks about worshiping on set and the bigger conversations the series spurred about the Korean American church.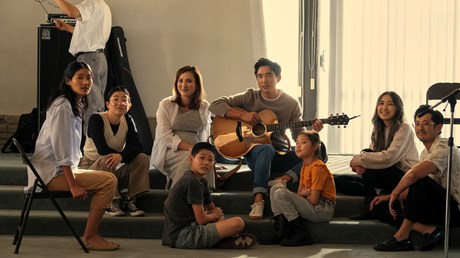 Netflix's miniseries Beef has been making waves for its uncomfortably accurate depiction of the Korean American church experience.
The show tells the story of struggling contract worker Danny Cho (played by Steven Yeun) and successful business owner Amy Lau (Ali Wong) who get into a road rage altercation. Rather than turn the other cheek, the two swear revenge on each other.
The Korean American church comes into play early in the show's third episode. Danny goes to church after deciding against setting Amy's car on fire (which only escalates from there). As he enters the service, the band's arrangement of "O Come to the Altar" overwhelms him, and he breaks down in tears. A pastor takes notice and then comes over to pray for him. The show features other contemporary worship songs such as "Raise a Hallelujah" and "Amazing Grace."
Pastor Jason Min, lead pastor of Citizens LA, an Asian American church in the heart of Los Angeles, had a role in crafting the music for those church scenes. His brother, actor Justin H. Min, is in the cast.
Min and other Korean Americans see that the authenticity in its portrayals extends beyond just music. In an article for NBC, Minjung Noh, a scholar in Christianity and gender, said that the show also captured elements of "misogyny and patriarchy" in the Korean church.
In one scene, after Danny has become integrated as a praise band leader, his mother tells him to introduce his younger brother Paul to some girls at the church. Noh shared how often in the Korean American church, you go to church to meet women, and the women aren't in leadership but rather supporting roles." (Offscreen, the show's creators have also …