As we await full justice with Christ's return, a guilty verdict only partly satisfies.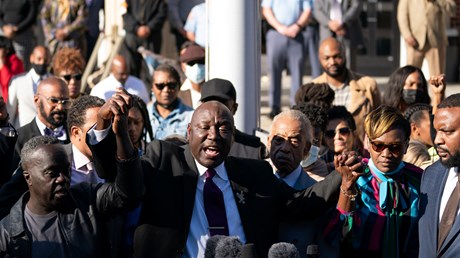 As we prepare our hearts for the birth of Christ this Advent, many of us have also been preparing our hearts for another story: the trial of the men who killed Ahmaud Arbery. On November 24, a court in Brunswick, Georgia, delivered a verdict convicting them of murder.
"I never thought this day would come," said Wanda Cooper-Jones, Arbery's mother, outside the courthouse. "Thank you for those who marched, those who prayed."
Over the past week, as I prepared to move to a new state, I found myself relying heavily on the power of distraction to avoid being anxious about the outcome of the trial. At times, worrying thoughts would creep into my mind, telling me I should prepare myself to hear a "not guilty" verdict. So when I heard the news of a "guilty" verdict, I breathed a sigh of relief, although the court's decision will not bring Arbery back to life. Even after the good news, I still felt pent up tension and the lament of a life lost.
Arbery was killed on February 23, which happens to be my birthday. So when news of his murder finally became public knowledge, months after his death, I remember exactly where I was and what I was doing.
The 25-year-old was chased down and murdered while jogging. I've been a runner since middle school—and while I always knew to be vigilant about running alone, I never imagined that "running while Black" would be yet another reason for a Black life to be lost.
Advent reminds us to contemplate the many losses we experience as part of the human condition. The season is defined by the anticipation of Christ's first coming and also his second. As we wait and draw near to Jesus, we repent …